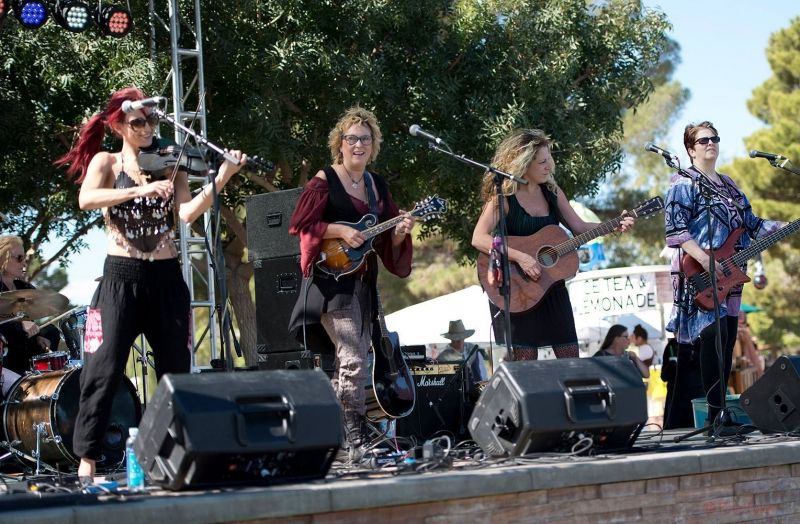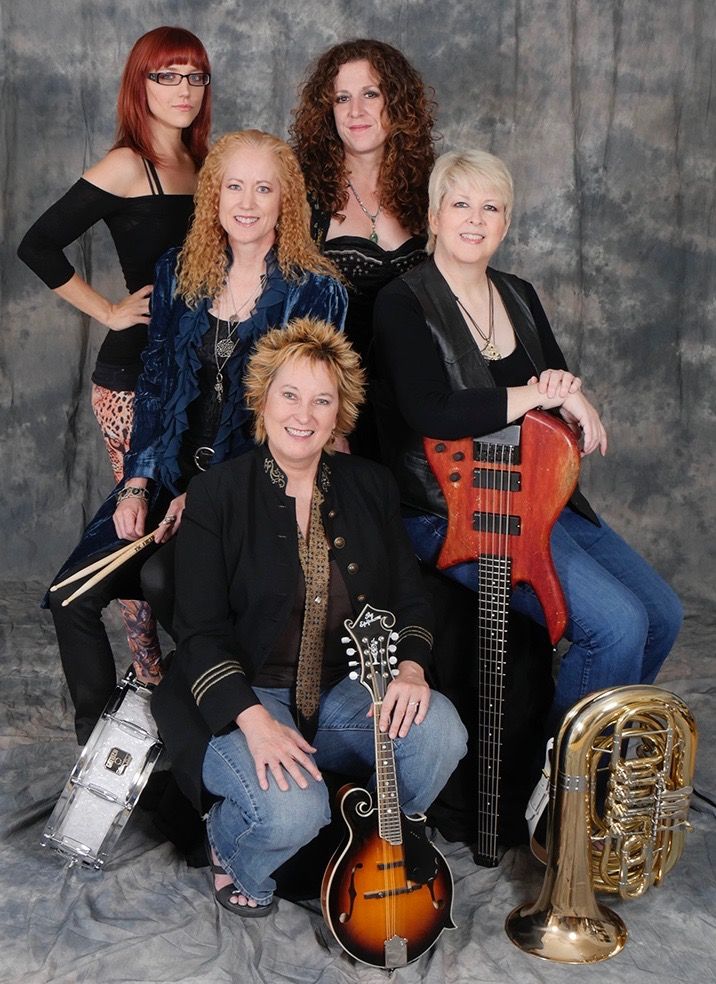 KLLIAN'S ANGELS
BETH MULLANEY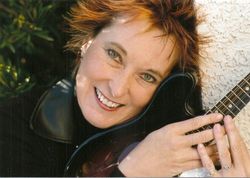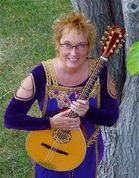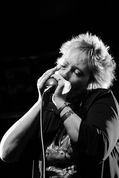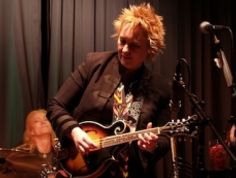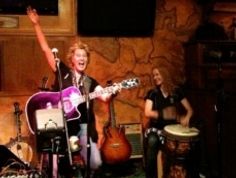 Beth Mullaney; singer, songwriter and multi-instrumentalist, has been a featured performer in Las Vegas since 1994. Her arsenal of instruments include guitar, mandolin, Irish tenor banjo, harmonica, bodhran and spoons with songs spanning hundreds of years, dynamic vocals and abundant energy. Presenting an every expanding, eclectic blend of styles, past and present from Classic Rock to Country, Alternative, Celtic, Jazz Standards and much more, there is something for everyone in each of her performances. As a soloist, with the touch of a foot on a loop station, Beth layers her live instruments and vocals, taking listeners on an exciting musical journey that is sure to keep hands clapping and feet tapping. Beth is also the founding member of Killian's Angels, MULLANEY and Oompoporama,where she adds her original songs and arrangements. 
Based out of Las Vegas and originally from Lincoln Nebraska, Beth's regular Las Vegas performances include corporate events, cocktail parties, conventions, festivals, faires, Kidville, Children's birthday parties, Irish Pubs, Assisted Living Communities, Renaissance Faires, Oktoberfest parties and more. Beth performed with the popular duo, MulliVan's Edge at the Excalibur from 1994 to 2001, and as a soloist from 2001-2005, where she debuted her show, "Rhythm and Muse", adding washboard, Tupperware, a sink, and pots and pans to her act. Beth's first solo album, "Simon Says" achieved Billboard honors for "Can I Hold You" and "Playin the Part". "Home", her Christmas CD features three original songs as well as a duet with her dad, Les Hald. She has also recorded two CDs with Killian's Angels with a track that is featured in Grand Theft Auto IV and the hit CBS drama, Elementary as well as a Jeopardy Jingle that was played on radio stations throughout the USA. Her music is as vast and honest as her many life experiences, infusing a Midwest upbringing with an independent nature that easily speaks to any listener.
For a short demo video, please click on the link below. 
Mullivan's Edge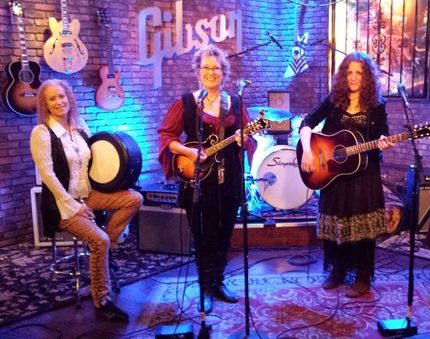 MULLIVAN'S EDGE (formerly Mullaney) is high energy, multi-layered music featuring a stage full of instruments with an acoustic feel and an "organic" neo-traditional style. The music of Mullivan's Edge ranges from freshly arranged traditional tunes and Celtic favorites spanning centuries to original songs and much more. Offering an extensive repertoire of songs and styles representing hundreds of years, there is something for everyone in each performance.  
Mullivan's Edge is:
Beth Mullaney - vocals, mandolin, Irish tenor banjo, harmonica, guitar, bodhran, spoons
Nan Fortier -  bodhran, djembe, cajon, spoons, washboard, guitar, tin whistle, melodica
Anne Donohue - guitar, bass, vocals
Marlo Zemartis - violin 
OOMPOPORAMA: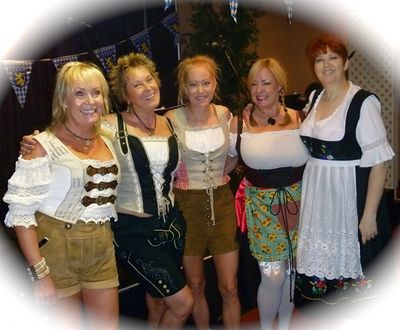 We'll put the pop in your oompah! 

Oompoporama is the only all female oompop party band 

from Las 

Vegas. 
In fact, they might be the only all-female oompop party 

band in the 

world.
Sure, Oompoporama plays traditional polkas 

and German 

party songs, 
but they also add a "German Twist" to 

popular songs. Take "Like a Virgin", 
Poker Face or "I Will Survive"...

add a polka beat, mesmerizing vocals and 
skillful instrumentals, top 

with personality and energy galore and you have 
yourself the perfect 

party. Not to be put in a box, the band adds in 
everything from Irish 

drinking songs to popular radio tunes.

 Oompoporama 
is unique fun mixed with true talent. 


Oompoporama is:
Vita McCleavage - Vocals and Keyboard. Las Vegas born and bred. 
Liz, The Baudy Brass - Trumpet and Vocals. From Munich, Germany. She's the real deal.
Tuba Chick Ginger - Playing the original heavy metal. Las Vegas born and bred. 
Bubbly Beth - Vocals, Guitar, Spoons, Stumpf Fiddle. Polka Nerd and little lost Irish girl from Nebraska. The Big Joe Polka Show was her favorite radio show as a child. 
Nan Bam Bam - Drums and percussion - Las Vegas born and bred.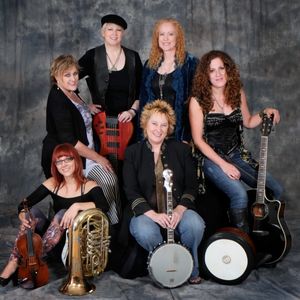 Based out of Las Vegas since September 2001, Killian's Angels has recorded two CD's. Their original arrangement "Celtic High Step (aka The High Reels)" was featured in the October, 2012 premier episode in the Emmy nominated CBS drama, Elementary.  The same song is also featured in the NYC Pub Scene in the popular video game, "Grand Theft Auto IV". Along with being listed as a "Must See Band" in Pauline Frommer's 2008 Las Vegas Travel Guide, Killian's Angels won National Radio Honors in 2006 with King World for their original version of the Jeopardy theme song. Their warm, unpredictable and energetic shows continue to entertain audiences from all walks of life.
Killian's Angels is:
Beth Mullaney - Vocals, Mandolin, Harmonica, Guitar, Banjo, Bodhran, Spoons
Ginger Bruner - Tuba, Bass, Vocals
Vita Corimbi - Vocals, Keyboard
Dolly Coulter - Vocals, Keyboard, Melodica
Anne Donohue - Vocals, Guitar
Nan Fortier - Drums, Tin Whistle, Vocals
Marlo Zemartis - Violin
Alumni:
Willy Wainwright - Violin
Satomi Hofmann - Vocals, Keyboard, Guitar
Lisa Viscuglia - Violin
Adrienne LeFebvre - Violin
CJ Borden - Keyboard, vocals
and special guests:
Rachel Julian - drums
Al Guzman - drums
Brett Barnes - drums
Mark Pardy - drums
Ben Ruhl - drums
Richele Panther - drums
Denitza  - violin
Justine Bellinsky (Moonvine) - violin
Nancy Anderson - keyboard, vocals